Thank you Dallas & Friendship West for your support!
~ Chericia Curtis and the Soul Purpose Team ~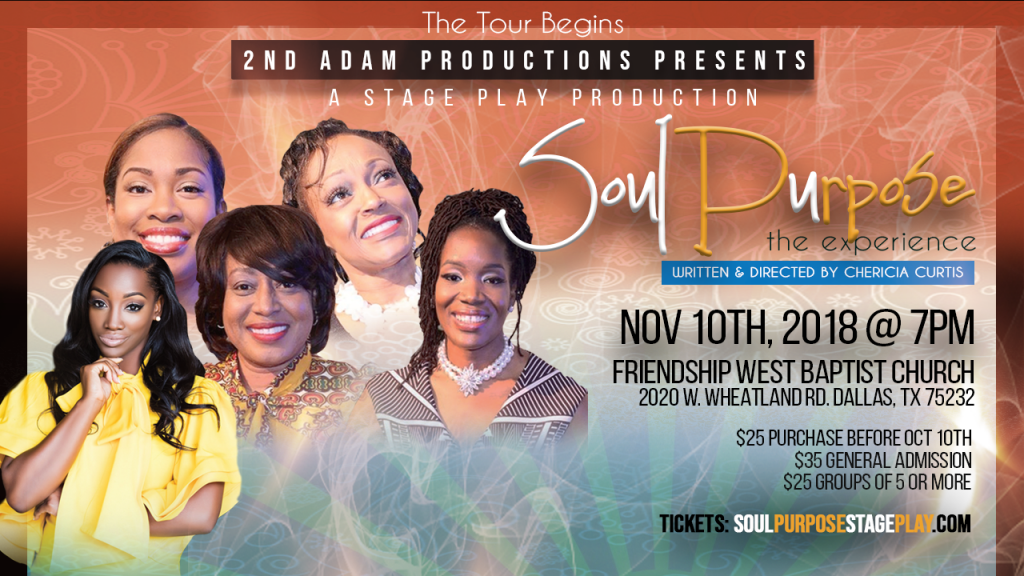 About The Stage Play
Meet 5 strong and powerful, African American women from different walks of life that through an unexpected sisterhood develop a spiritual bond that is unbreakable. Their heartfelt journeys & purpose, while all different, find they are traveling in the same direction. These women will leave you empowered, encouraged, motivated, impacted, and uplifted. They all discover that it's not their struggles that define them, but how they overcome them that does. Their strong faith in God and full dependence on Him, make all of them triumphant in spite of their circumstances. Each of them seeking and finding God's purpose for their life, in their own unique and special way. Through their sisterhood, they learn that by leaning on God and each other, they become better and stronger together. They may bend, but will not break because of their trust in God. They further discover that iron sharpens iron, there's power in numbers, and God will never, ever, leave them or forsake them even when they're faced with the storms of life.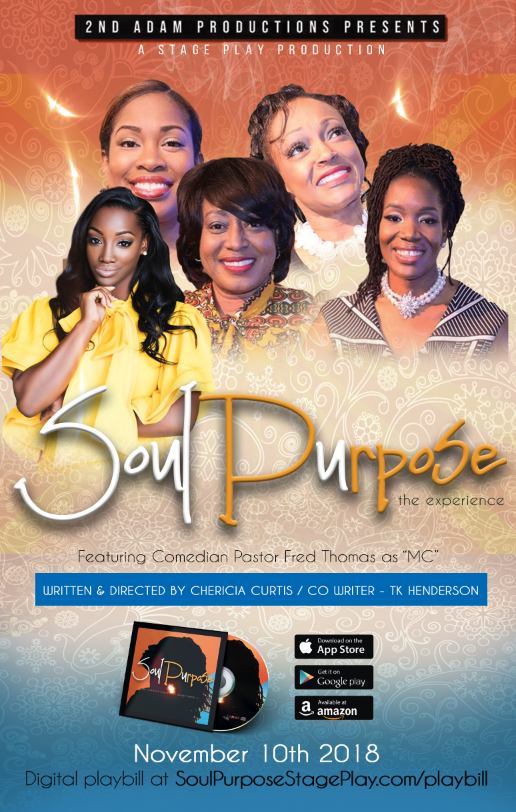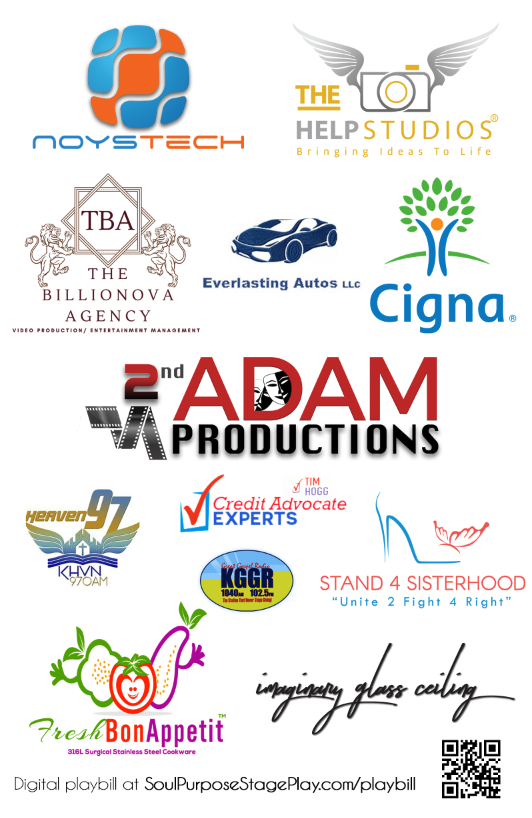 Church Members / Dancers:
Roni Rodgers, Aisha Maxwell, Margurittee Johnson, Julian Johnson
Background Vocals and Band:
Ca'Ree Skinner, Dawna Franklin, Katrina Alexander, Lee Keesee, Jose Vega, James Murphy, Glaucio Pedroza, Simeon Terry
Production and Design Team:
2nd Adam Productions Executive Producer – Larry & Cherica Curtis
Director – Chericia Curtis
Writers – Chericia Curtis, TK Henderson
Production Consultant – Pam McKinney
Production Ops Manager – Myekye Hamilton
Stage Manager – Brandi McDowell
Musical Director and Composer  – Syleria Skinner
Digital Marketing Manager – Damon Flournoy
Lead Brand Ambassador – Wanda Montgomery
Choreographer – Kamali Hill
Vocal Instructor – Erica Simmons
Stage Designer – John Wolf
Lighting Designer – Matthew Wilson
Special Thanks from Chericia Curtis:
My husband, Larry Curtis, my children, Family & Friends, Soul Purpose Team, Antioch Christian Fellowship, Pastor Respass Corinth Tx, Friendship West, Sponsors, Media Outlets, Mark Jackson, JWayne Media, But Most of All My Lord and Savior from whom all my Blessings Flow.